Lekiu-class (Yarrow Type F2000) Guided-Missile Frigate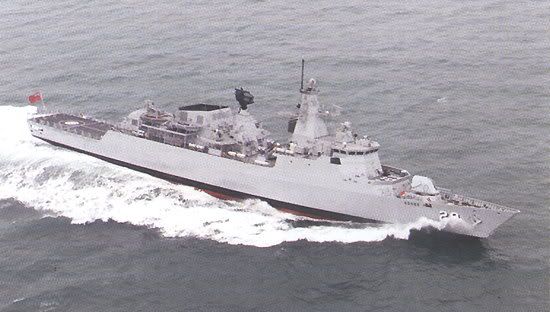 Displacement
: 2,270 tons (full load)
Dimensions
: 106m (length) x 12.75m (width) x 3.08m (draught)
Propulsion
: 4 MTU CODAD, 2 shafts
Power Output
: 16,650hp, 30 knots
Range
: 5,000 nautical miles at 14 knots
Electronics
: Sea Giraffe surface search radar, DA08 air search radar, Racal Decca navigation radar, Type 1802SW fire control radar, Mentor 2V1 ESM suite, Telegon 10 comm ESM, Scimitar ECM, Type V3001 thermal imager, Type 2400 optronic weapons director, Nautis II combat data system, TSM 2633 LF hull sonar, Sea Siren towed torpedo decoy, Super Barricade chaff dispenser.
Armament
: 8 x MBDA MM40 Exocet Block II anti-ship missiles, 16 x MBDA GWS.26 VL Sea Wolf SAM, 1 Bofors SAK Mk2 57mm DP gun, 2 MSI 30mm AA, 2 x triple 324mm ILAS-3 torpedo tubes for Whitehead A244/S ASW torpedoes.
Aviation : Flight deck aft with hangar. Designed to support Agusta-Westland Super Lynx ASW helicopter.
Crew
: 138
Ships
: KD Lekiu (30), KD Jebat (29)
These two frigates, which are sometimes known as FFG30 class are TLDMs most modern ships in the fleet. KD Lekiu was launched at the Glasgow shipyards of Yarrow Shipbuilders in December 1994, followed by KD Jebat in May 1995 – which explains why the class is known as 'Lekiu-class' despite Jebat having the lower pennant number. The ships however faced difficulties in integrating the various systems and were only commissioned into TLDM in March and May 1999.
The ships are named after two of the famed Malaccan heroes, Hang Lekiu and Hang Jebat – part of the legendary Hang Tuah's posse. With the commissioning of the Lekiu-class, all members of that posse has been honoured by TLDM. KD Hang Tuah (F76) however, has been relegated to the training role. The ships are grouped in the 23rd Frigate Squadron.