World Cup is over…congrats to Italy, even though they won on penalties. Darn…my team lost again! Zidane lost his marbles when he headbutted Materazzi and got red-carded for his trouble – an ignominous end to an illustrious career. During the celebrations however, it looks like Rino Gattuso had his shorts removed for a while. Good thing his wearing his pants!

As usual there are heroes and villains, memorable moments and so on. Here's my pick for the recent tournament

Best Outfield Player Award: Miroslav Klose (Germany)
Best Goalkeeper Award: Ricardo (Portugal)
Best Young Gun : Lukas Podolski (Germany)
Worst Player Award: The entire England team – specifically Peter Crouch
Most Disappointing Player : Ronaldinho (Brazil)
Bad Boy Award : Wayne Rooney (for stamping on Ricardo Carvalho and pushing Cristiano Ronaldo)
Cheekiest Moment Award: Cristiano Ronaldo winking to the Portuguese bench following Rooney's dismissal.
Crazy / Hilang Akal Award: – Zinedine Zidane for headbutting Marco Materazzi
Back From Coma Award : France
Most Overrated Team Award: England
Most Disappointing Team Award : Brazil
Unlucky Team Award : Australia, for being beaten by 10-men Italy through a penalty
Goal Of the Tournament : Carlos Tevez, 84-min Argentina v Serbia & Montenegro
Best Match : Argentina vs Serbia & Montenegro
Team Of The Tournament :
GK : Ricardo (Por)
DEF: Fabio Cannavaro (Ita), Lilian Thuram (Fra), Rio Ferdinand (Eng), Philippe Lahm

(Ger)
MID:

Zinedine Zidane (Fra), Gennaro Gattuso (Ita), Park Ji-Sung (Kor), Andrea Pirlo (Ita)
FOR: Miroslav Klose (Ger), Lukas Podolski (Ger)
Manager : Jurgen Klinsmann (Ger)

Babe Of The World Cup Award: I can't decide…so these two are joint winners!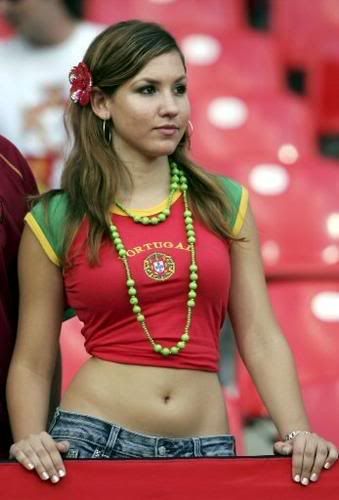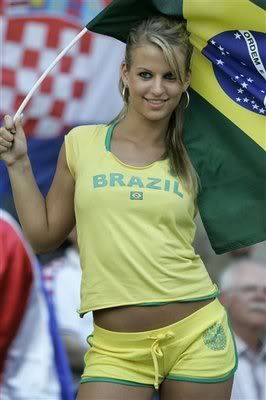 Finally special jurors award goes to HOTLINK. This award is given for HOTLINK's effort in organizing a massive street party at Bukit Bintang even though Malaysia is not in the World Cup, let alone the final! (Which, to me is really a pointless extravaganza – who do we think we are, Brazilians?)
Another special jurors award goes to RTM, for overhyping their coverage of the tournament with Fiesta Hurra and various ads on TV despite showing only 47 out of 64 matches. Of the 47, 14 are delayed telecast. Ingat bola, Ingat RTM? I think Ingat Bola, Lupakan RTM sounds better!