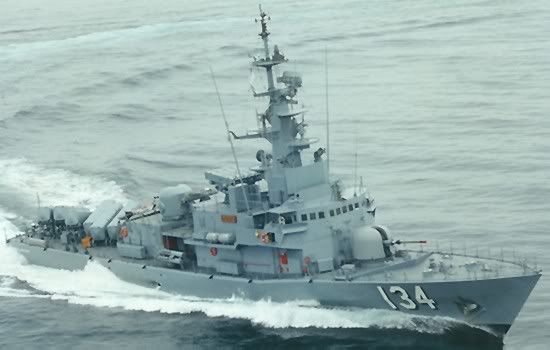 Displacement : 675 tons full load
Dimensions : 62.3m (length) x 9.3m (width) x 2.8m (draught)
Propulsion : 4 x MTU 20V diesels, 4 shafts.
Power output : 20,400bhp; 36 knots
Endurance : 2,300nm @ 18 knots
Electronics : RAN 12L/X surface/air search radar, Kelvin Hughes 1007 nav radar, IPN-S command and control system, two NA21 FC systems, DARDO FC system, INS-3 radar interceptor, TQN-2 radar jammer, two OTO Melara 105mm decoy dispensers, ASO 94-41 hull sonar.
Armament : 6 x OTOMAT Teseo Mk II anti-ship missiles, 1 x four-cell Albatros SAM launcher (with 8 reloads), 1 x OTO Melara Super Rapid 76/62 76mm DP gun, 1 x single Otobreda 40mm L/70 AA gun, 2 x triple ILAS-3 324mm Torpedo tubes for Whitehead A244/S ASW torpedoes
Crew : 56
Ships : Laksamana Hang Nadim (134) [ex-Khalid ibn Al-Walid], Laksamana Tun Abdul Jamil (135) [ex-Saad bin Abi Waqqas], Laksamana Muhammad Amin (136) [ex-Abdullah ibn Abi Serh], Laksamana Tan Pusmah (137) [ex-Salahuddin Al-Ayoubi].

The Laksamana (literally 'Admiral') class fast missile corvettes are the second class of ships brought from Italy (the first ships are the 'Mahamiru' (Lerici) class MCMVs). The Laksamanas are originally Iraqi 'Assad' class FSGs ordered from Fincantieri. They were however not delivered to the Iraqi Navy following sanctions imposed by the UN because of the Iraqi invasion of Kuwait. The ships remain languished at Genoa until a contract was signed between the Malaysian Government and Fincantieri in 1995 for the supply of two of the hulls; the other two was purchased in 1997. The ships are delivered in two batches in 1997 and 1999. Some specific features were modified and refitted to suit TLDM's needs. The Laksamanas are broadly similar to the Libyan Wadi M'ragh and the Ecuadorian Navy's Esmeraldas class corvettes.

The ships pack a mighty punch for a small hull. The OTOMAT anti-ship missiles have Over-the-horizon range enabling it to engage ships hidden by the horizon. It will be assisted in this task by the Super Lynx helicopters of No. 502 Squadron which provides OTH data and mid-course correction. The anti-air weaponry are superior to the larger Kasturi class and even surpasses the Lekius (which have the shorter-ranged Sea Wolf missiles). There are unconfirmed talks that these ships will remove their ASW suite (sonars and torpedoes) in order to improve the ASW capabilities of the Kasturi class corvettes / light frigates.

The ships are named after admirals (more accurately, minister of defence) of the old Malay sultanates. The ships are currently serving in the 24th corvette squadron.