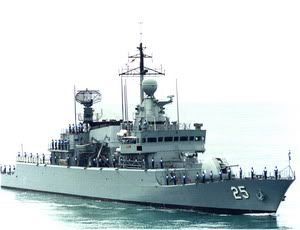 Displacement : 1,900 tons full load
Dimensions : 97.3m (length) x 11.3m (width) x 3.5m (draught)
Propulsion : 4 diesels, 2 shafts
Power Output : 21,460hp; 28 knots
Armament : 8 x MBDA MM40 Exocet Block II Anti-ship missiles, 1 x Giat 100mm DP gun, 1 x Bofors SAK Mk1 57mm DP gun, 2 x twin Emerlec 30mm AA guns, 1 x Bofors 375mm ASW RL
Aviation : helicopter landing pad aft; no hangar.
Crew : 124
Ships : Kasturi (25), Lekir (26)

These two corvettes, sometimes classified as light frigates were ordered from Howaldtswerke Deutsche Werf AG (HDW), Germany and were delivered in 1984. A general-purpose design, they are equipped with anti-submarine and anti-surface weaponry. Anti-air capability is somewhat weak as they are only equipped with guns for this task. Originally, the Kasturis were equipped with four MM38 Exocet AShMs. These have been replaced by the more advanced MM40 Exocet, with subsequent increase in firepower (more missiles) and range. The Kasturis are assigned to the 22nd Corvette Squadron.

They are named after two of Hang Tuah's five companions – Hang Lekir and Hang Kasturi.